Participating in one of our 3rd Party 5-Day Virtual Camps?

Consider adding in the Daily Activities that go along with each day.  See Info Below: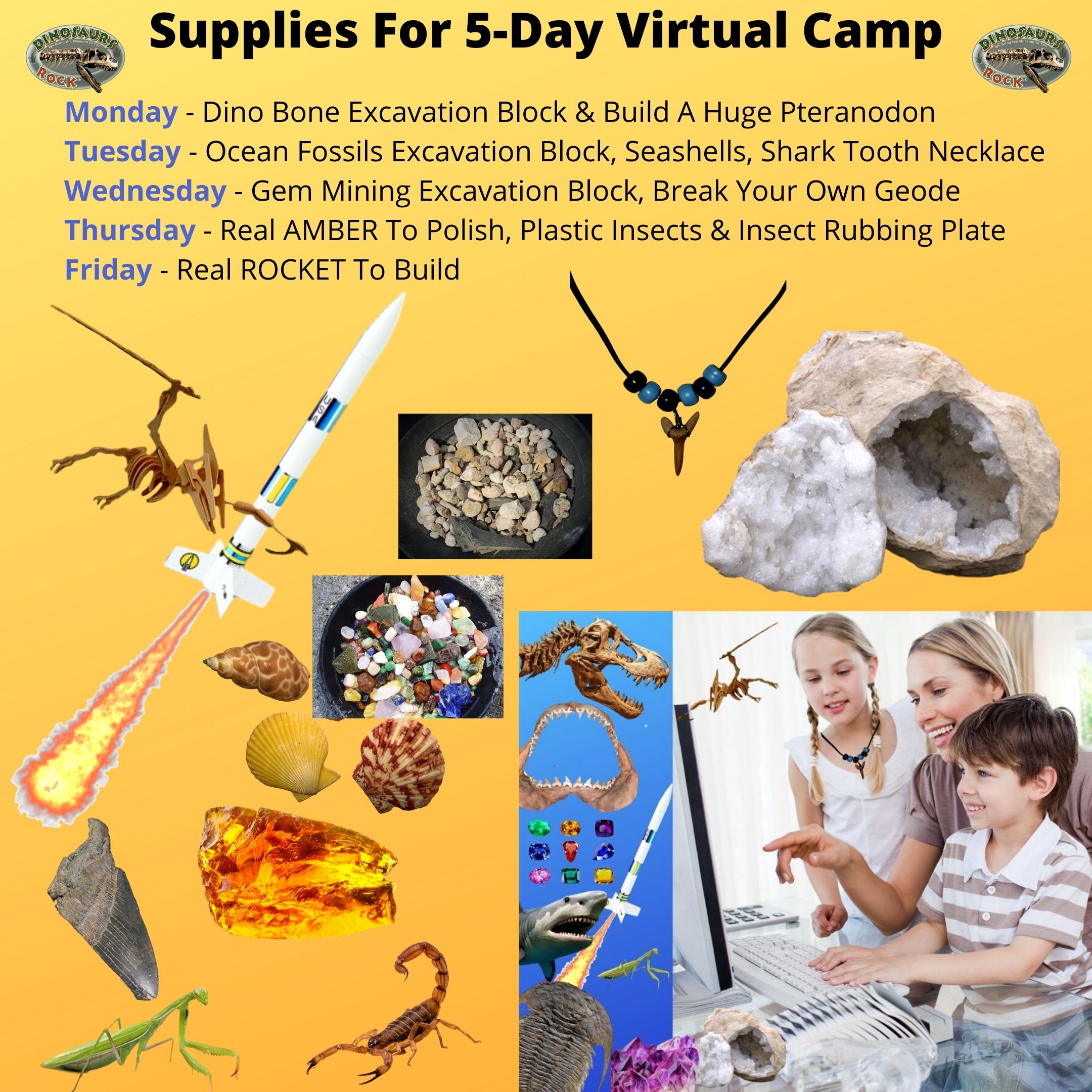 No materials are required for the class –
The instructor will give you a link to the free on-line study guide/downloadable books.
Please note that we offer an optional package of DIY activity supplies on DinosaursRockSuperstore .com 
The activity supplies are designed to complement each day's activities (but can be done later) and provide a hands-on/tactile experience that will keep your child busy for 1-1/2 hours per day – we could ship today if interested – depending on where you are located it would take 2 days to arrive.
The package is called  5-Day Virtual Camp Supplies and includes:
o   3 different Excavation Blocks to dig up real fossils and gems including dinosaur bone, megalodon shark tooth piece, large quartz crystals and lots and lots more.
o   Large Wooden Pteranodon To build
o   Seashells
o   Make Your Own Fossil Shark Tooth Necklace
o   Break Your Own GEODE
o   Real AMBER you can Polish to discover prehistoric insects
o   Insect Rubbing Plate
o   And a real ROCKET to Build.
Free ROCKETRY CLASS Books & Rocket Building Video Below
If you wold like to launch your rocket I highly recommend that you purchase The Quest Starter Set below and the Recovery wadding.
The Quest Astra III™ Quick Kit starter set combines Quest's rugged Astra III Quick Kit, (3) revolutionary Q-Jet™ rocket motors and a complete launch system. Everything you need for a day of flying model rockets! The launch equipment can be used to continue your adventure and fly the entire fleet of Quest rockets!
Click here for product details.
$39.99
You need to use either any brand of baby powder or corn starch when folding your parachute to prevent the parachute from sticking together and for easy & quick opening when deployed.
A Real Fossil & Mineral Dig Right In Your Own Home…
Keep Your Kids Busy for Hours Discovering 100+ Genuine Fossils & Minerals.
FREE SHIPPING!
BIGGEST DIG ON THE MARKET!!
Chip and brush away using safe wooden brushes (6 per block provided).
Uncover fossils such as:
REAL dinosaur bone
ammonites
sea squid (orthoceras)
fossil clams
crinoid stems
sea urchins
shark teeth- Megalodon shark tooth
REAL rough rubies
emeralds
amethyst crystals 
citrine
quartz,
glittery pyrite (fool's gold), and lots more!
Companion Fossil Guide Included
Click on Video above to view
How To Use Your Excavation Block
Break Open CRYSTAL FILLED GEODES…
FREE SHIPPING!
Spectacular, diamond-like quartz crystals inside.
From Morocco – easy to break, unlike typical domestic geodes.
Approx size 2″-4″ each.
Set of 5 
FREE SHIPPING!
Spectacular, diamond-like quartz crystals inside.
From Morocco – easy to break, unlike typical domestic geodes.
Approx size 2″-4″ each.
Set of 5 
GEOLOGY ROCKS & MINERALS Gemstone & Mineral Sorting Kit
You'll love this assortment as these specimens are larger than others offering similar items.
You'll get just over 2-lbs of
Ruby,
Tourmaline,
Garnet,
Chrisacola,
Green Calcite,
Emerald,
Amethyst,
Large Quartz Crystals,
Citrine,
Geode Piece,
And lots more!
Polish Your Own AMBER – Will You Also Find A Prehistoric Insect?
FREE SHIPPING! This amber polishing kit includes 25 rough genuine fossil amber specimens, sandpaper plus complete easy-to-follow instructions…BONUS:
This kit also includes

1 Genuine Amber specimen with a plant or insect inclusion (1″-2″ specimen) guaranteed.
ROCK COLLECTION – Igneous, Metamorphic & Sedimentary
ID chart of 6 sample each of Igneous, Sedimentary, and Metamorphic Rocks.

Chart size: 7″ x 5 1/2″

Comes enclosed in plastic zip lock for safe-keeping.

Great geology, earth science resource for teachers or cub scouts.

Great rock and mineral gift or party favor.
Fantastic 18 piece Rock collection and ID chart of Igneous, Metamorphic, Sedimentary rocks, clearly labeled and affixed to sturdy cardboard backing. 
Make Your Own Shark Tooth Necklaces
Make-Your-Own Fossil Shark Tooth Necklace Kits – Set of 10
Fun and easy to create – Make your own shark tooth necklaces.
Kit includes materials for 10 necklaces: 10 pre-wired fossil shark teeth, plastic beads and cotton-waxed cord
Simply bead and knot the cord (no difficult clasps)
Great party or classroom activity
Makes great shark tooth necklaces designed by you!
Comes with complete, easy-to-make instruction sheet