Celebrating Our 20th Year Of In-Person Special Events…
Now Offering Virtual Events Too!
Welcome To DINOSAURS ROCK School Assembly
Our School Assemblies transform your classroom or gym into a Museum. You will have a myriad of museum-quality (many genuine and life-size) dinosaur fossils and other prehistoric related items right in your own school. Your students will see specimens that are 10,000 to over 500 million years old.
The visual display and interactive presentation will be amazing! Meets and exceeds all NJ Science Core Curriculum Content Standards for all grades.
DINOSAURS ROCK® offers the most authentic learning experience with our expansive exhibits of museum quality specimens.
Your School Assembly includes a genuine Fossil Dig. Your Students will have the opportunity to discover and keep genuine fossils. As they participate in this hands-on activity, they will be awed as they uncover genuine dinosaur bone, shark teeth, ammonites, petrified wood and more. Best of all, they will be taking some fossils home, the start of their own collection.
We believe that kids learn best while having fun … no goofy puppets, teeny exhibits or out-of-tune singing here!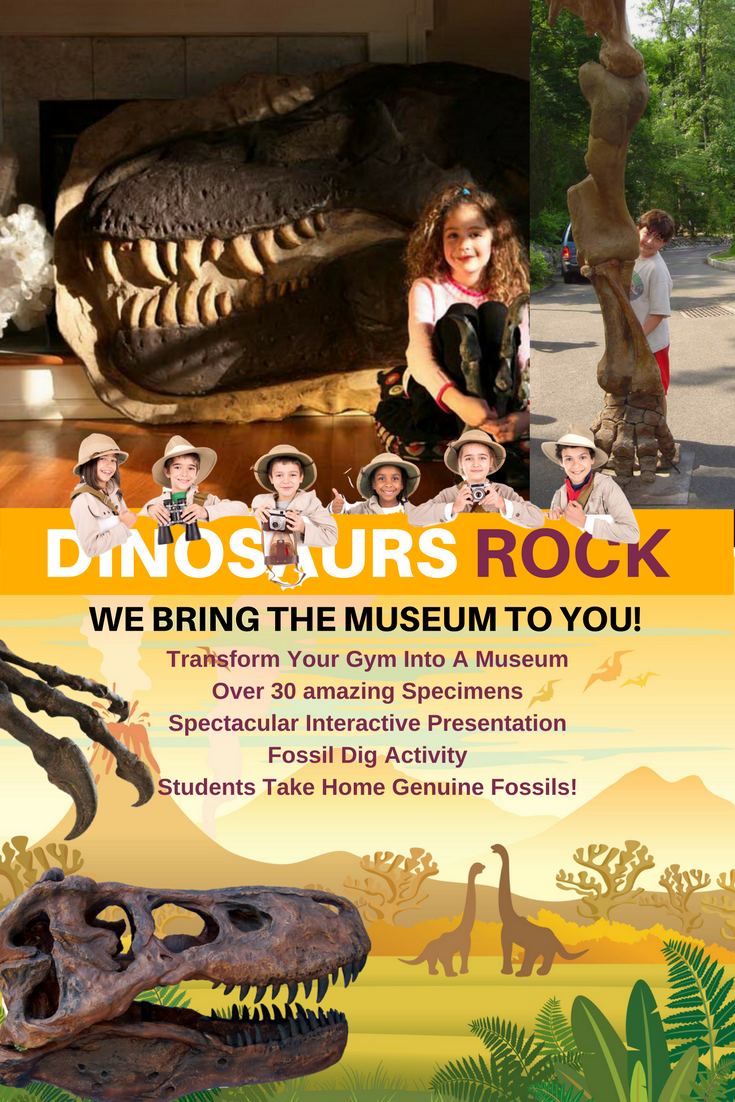 Most Requested School Assembly For 19-Years
"Dear Dinosaurs Rock Company, Many thanks for coming to Memorial Elementary School on Apri1, 2016 on behalf of the Science Honors Society of East Brunswick High School.
Not only did the children have a great time digging for fossils and learning about the prehistoric times, but so did the high school students from the Science Honors Society and Memorial Elementary School teachers/staff.
It was a great opportunity for the students in East Brunswick High School to interact with the elementary school children and influence them to learn more about science.
The event overall was a great success and it could not have been possible without Dinosaurs Rock. Once again thank you so much for the amazing presentation of fossils and hands-on activities at the Memorial Elementary School."
Esha Rao, President of Science Honors Society
Lot's of Student Participation
Your students won't be sitting idle.  We walk around with Genuine Specimens for them to touch that no Musuem would let you near.  Your students are also called up to be part of the presentation – kids LOVE this!
We work with over 800 Museums & Universities who have purchased "Cast" specimens from us for their own display.  You'll have many of these enormouse "Cast" specimens at your School as well.
Who likes eggs for breakfast?  Touch a real fossil Dinosaur Egg,  Dinosaur Footprint, dinosaur Poop and more.Museum Specimens
Your students will be able to interact with many of the specimens and compare themselves to the actual sizes of various dinosaur parts.
Although many of the specimens you will have on display are genuine, many specimens are one of a kind so "CASTS" must be made.  This is exactly what you see in most Museums.  We'll bring some of our best specimens for you to see.
You can choose from our standard dig where we bring bins filled with samd and loads of genuine fossils like dinoaur bone, shark teeth, fossil clams, petrified wood and lots more.
You can also choose the Excavation Block (additional cost) where your students work in groups chopping away (just like on a real fossil dig) to find their fossils. (Seen Below)
Our highly trained and professional instructors (many of whom have been in the feld on digs themselves!) will wow your students with really cool information while keeping it "light" and fun so learning becomes easy.
Larger Specimen Set Up at East Coast School Assemblies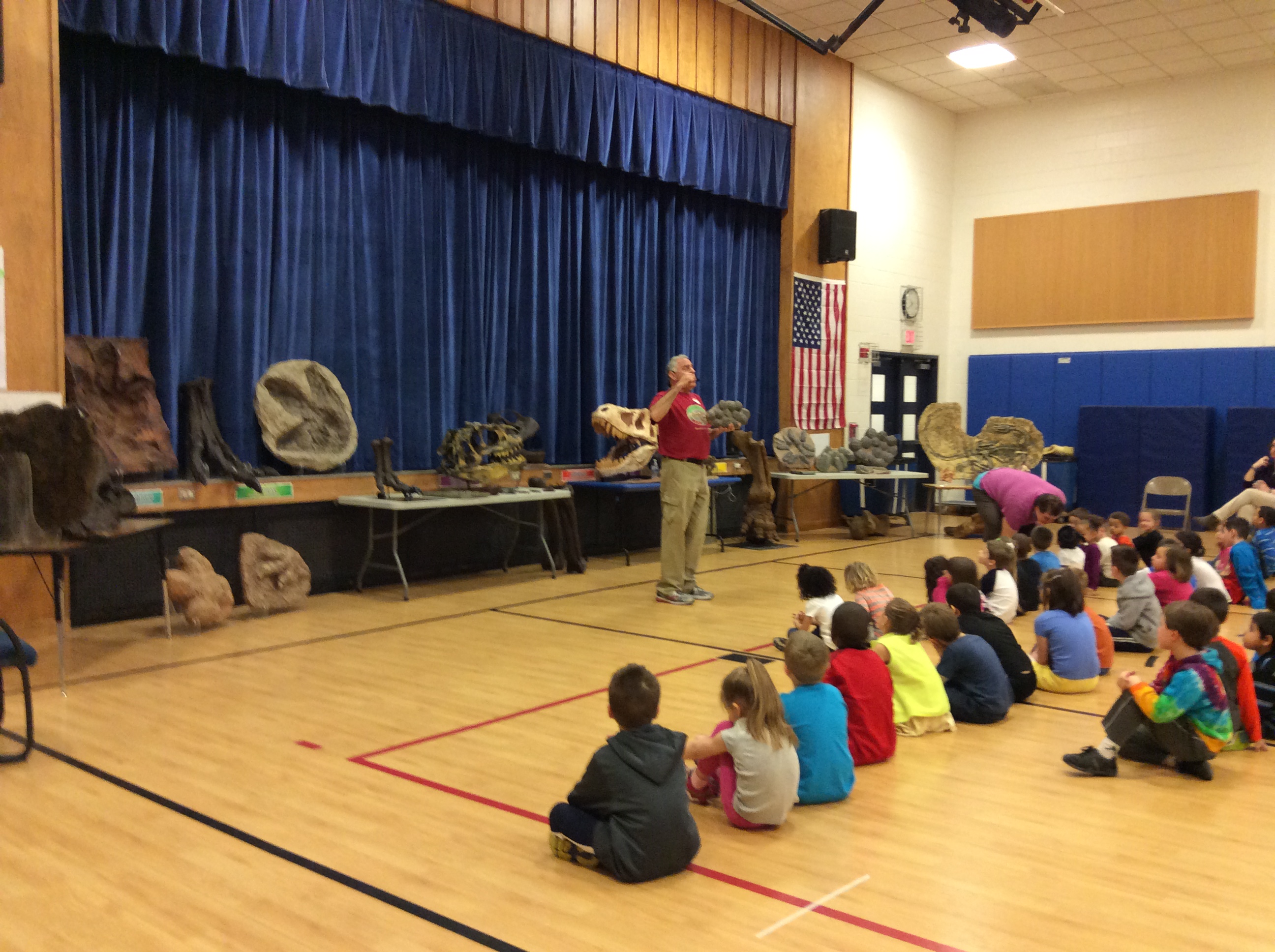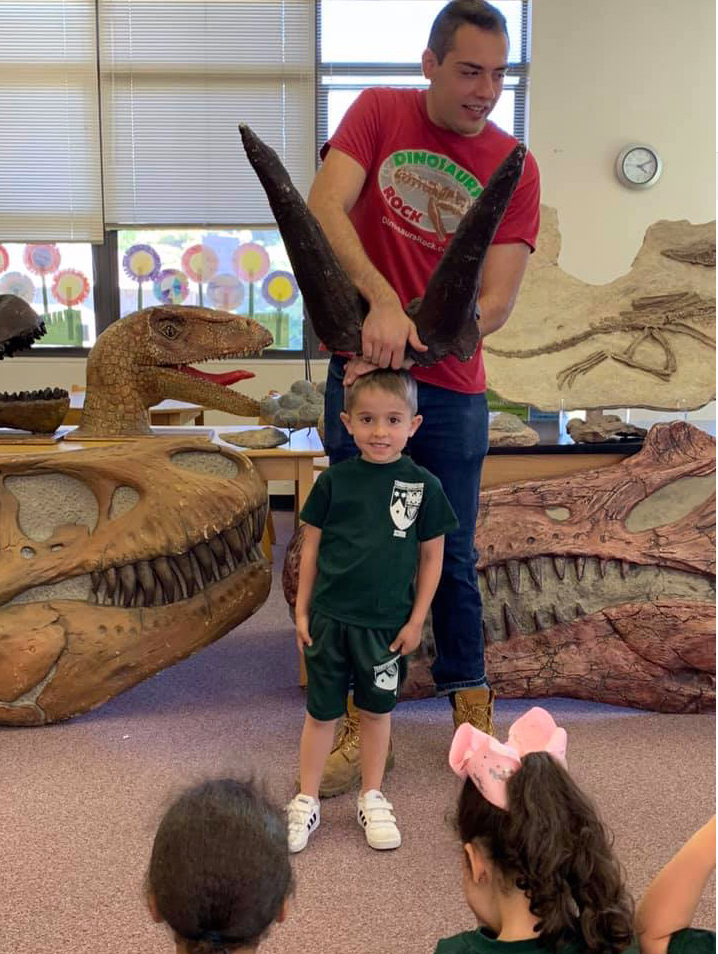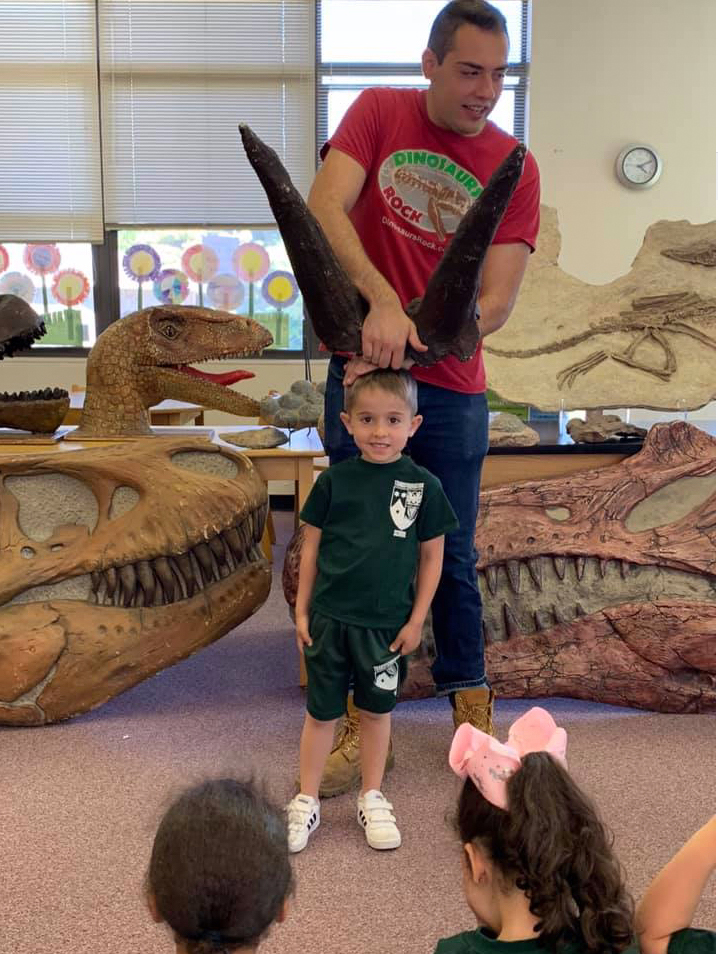 Up & Down The East Coast – Boston Through Virginia – School Assemblies.
Thank you for presenting at the 2018 Mountain Avenue Science Fair.  Your presentation of "Dinosaurs Rock" was so engaging.  How special that our students were able to learn about the dinosaur fossils through the ages.  I am very appreciative that you shared your knowledge and real world experience with our awesome school community.  You make Mountain Avenue Marvelous!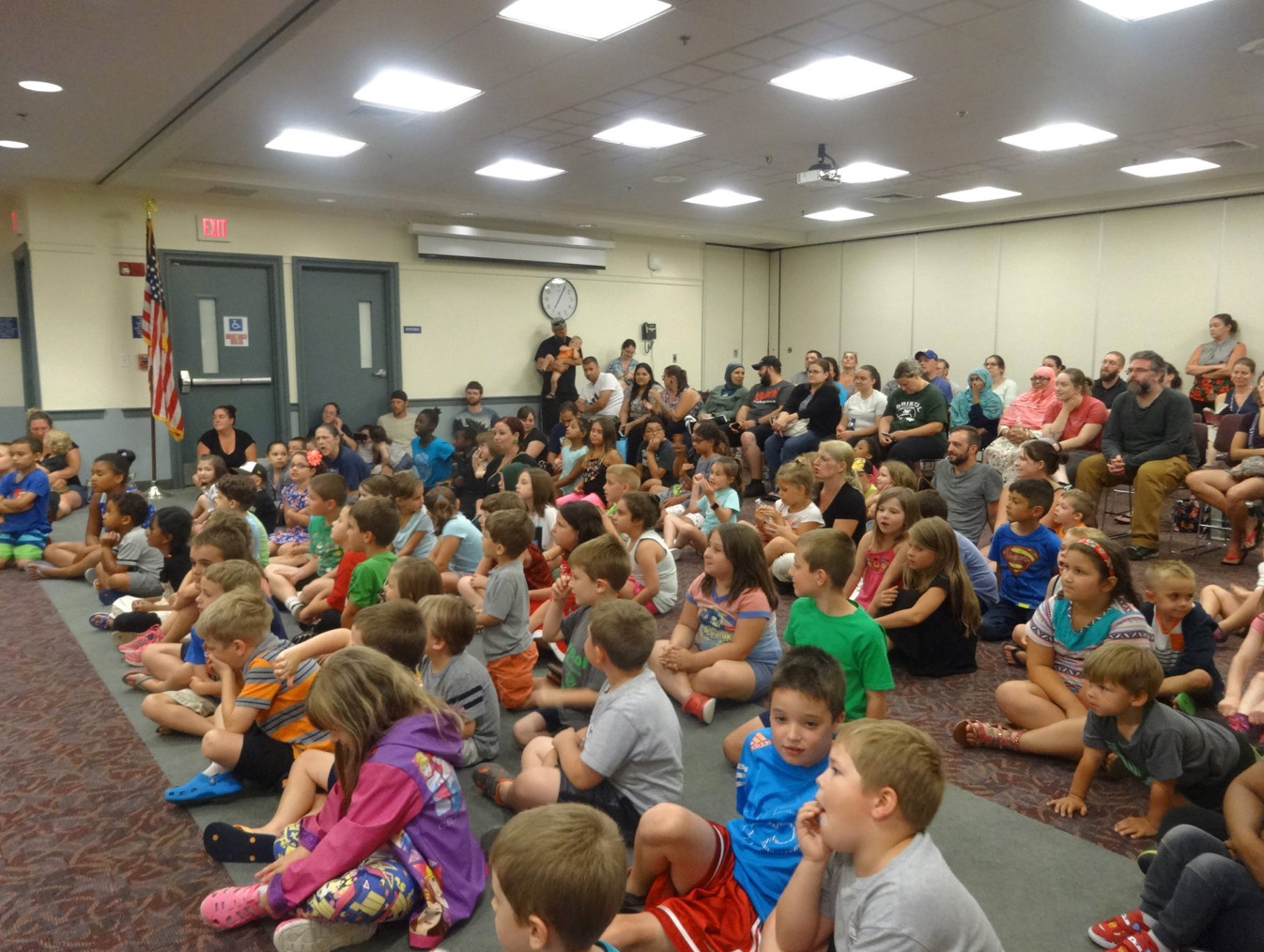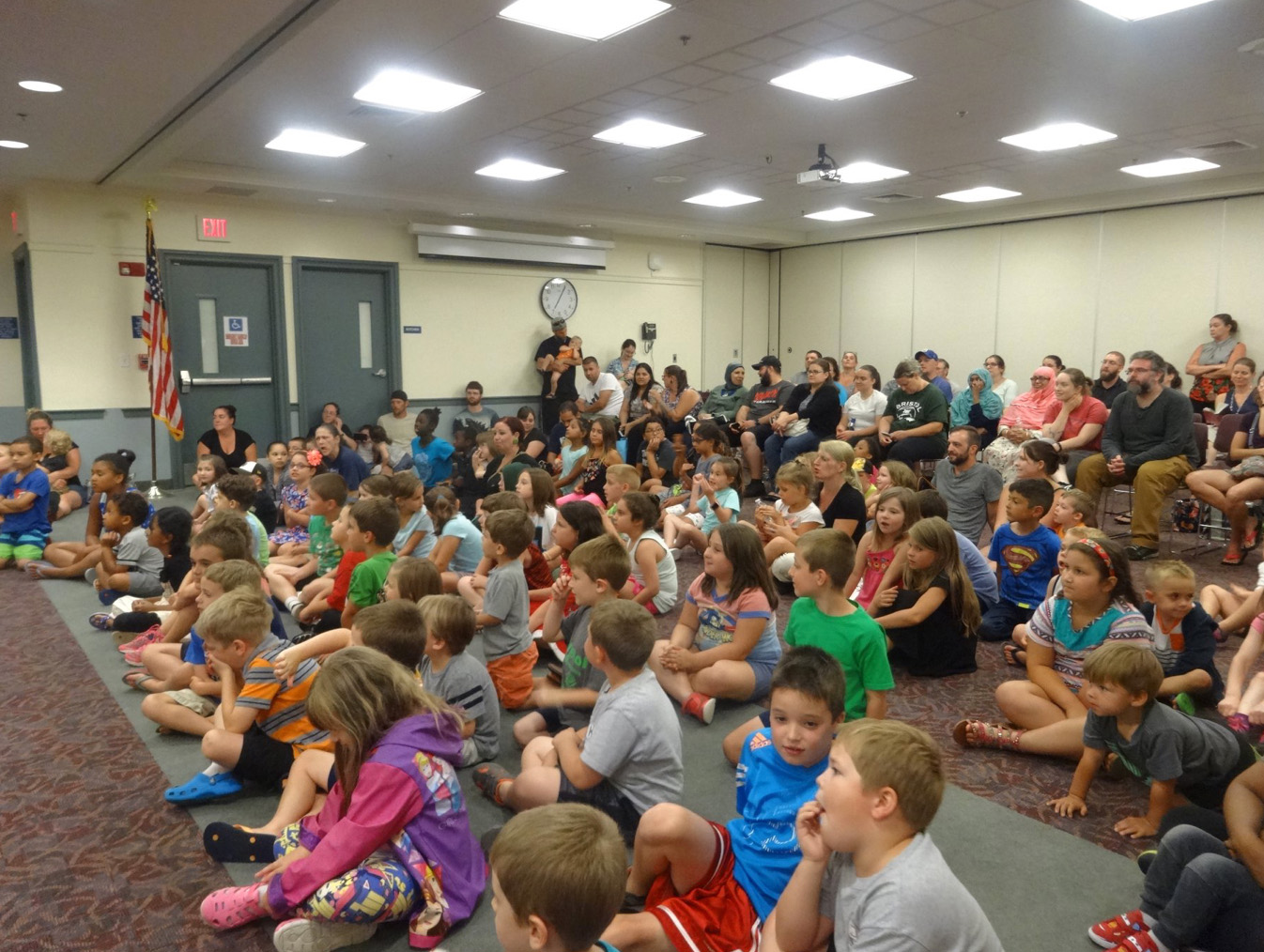 Bay area & Southern California School Assemblies are a huge hit!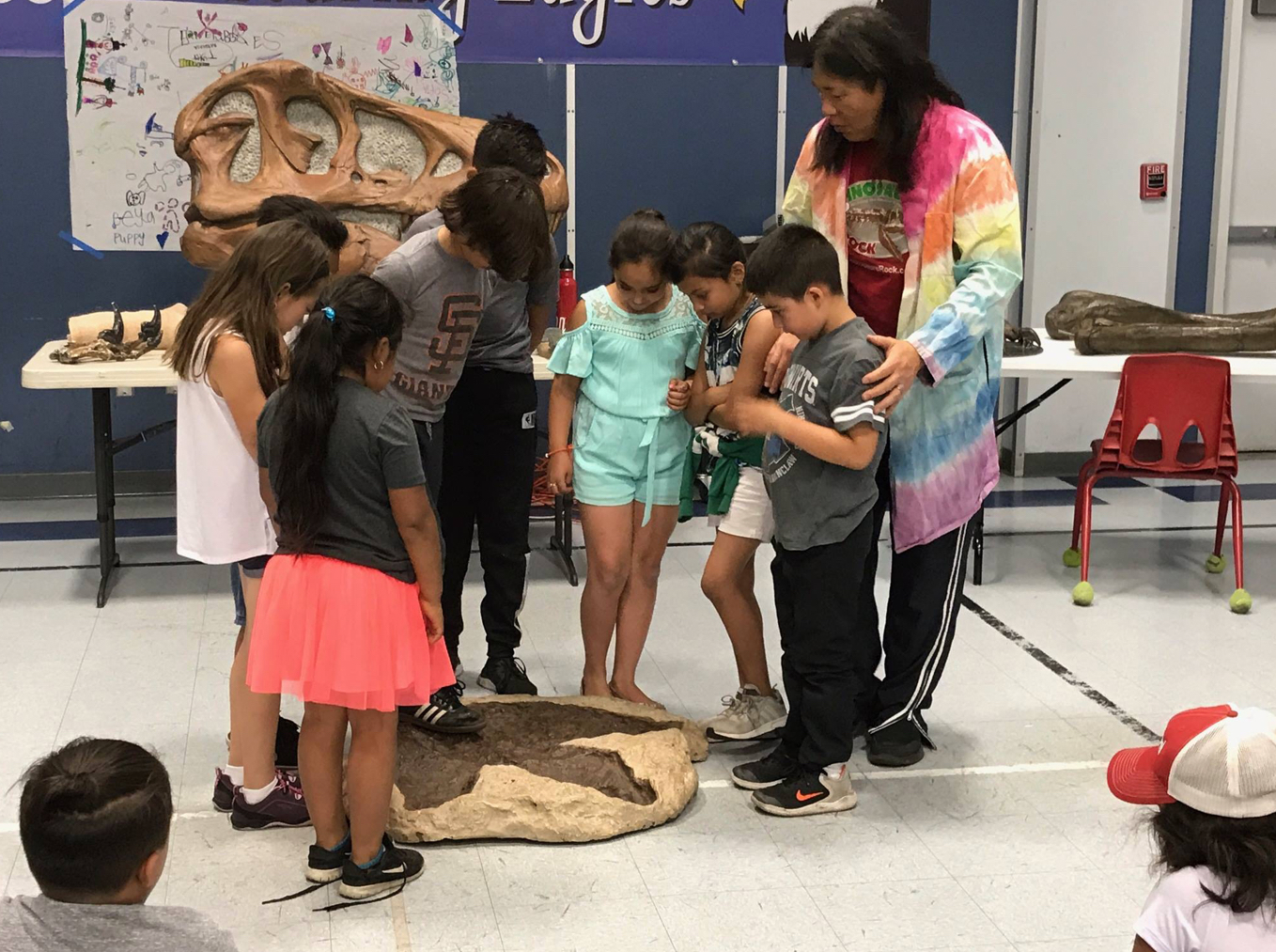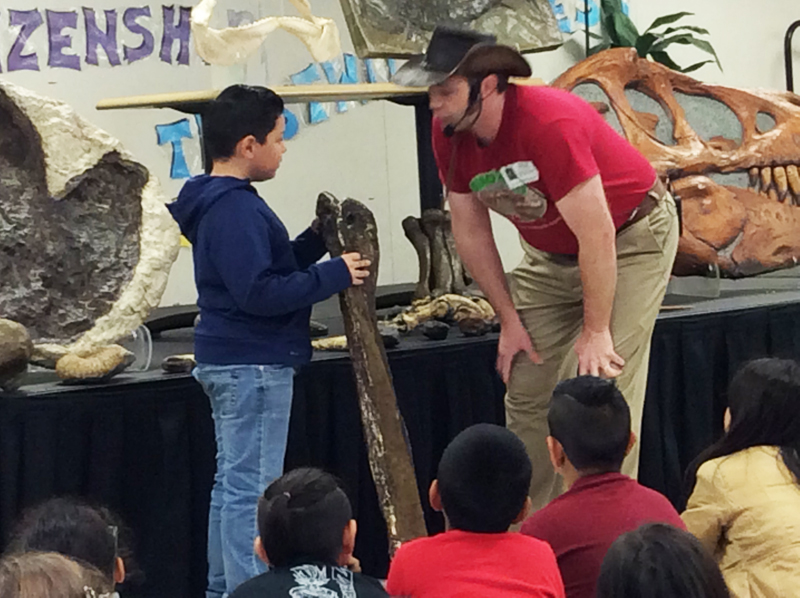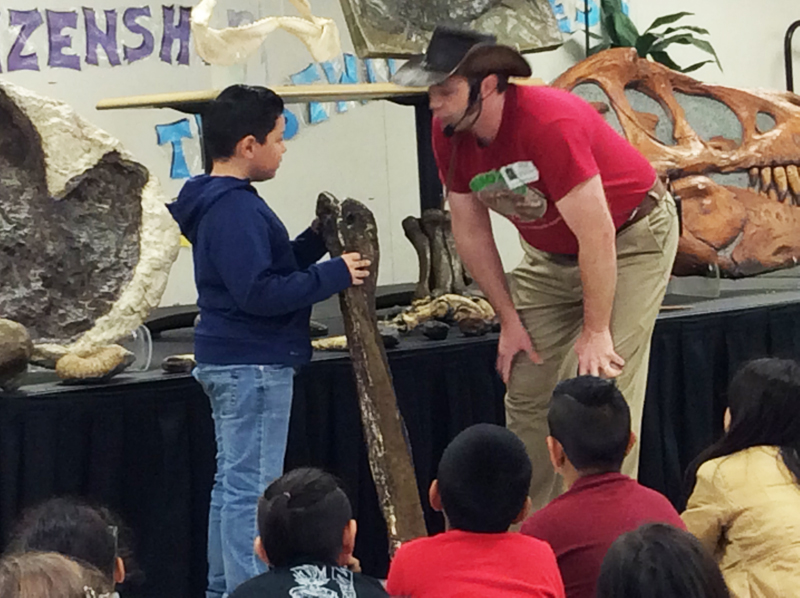 Thousands visited the DINOSAURS ROCK fair attraction & exhibit and over 800 students attended the DINOSAURS ROCK School Assembly at the 82nd annual Mountain State Forest Festival in Elkins, WV this past week. Students went on a real fossil dig, taking home specimens such as genuine dinosaur bone, shark teeth, ammonites and more. Visit
http://www.DinosaursRock.com
and
http://www.DinosaursRockSuperstore.com
Check out Below our Very FIRST DINOSAURS ROCK®
School Assembly 18 Years Ago in Ft. Lee, NJ