Celebrating Our 22nd Year Of In-Person Special Events…
Virtual & In-Person Available!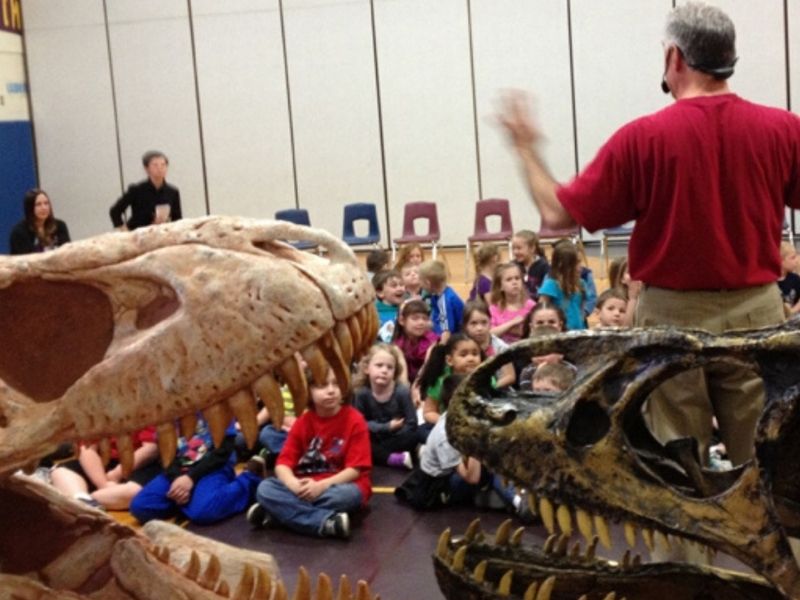 Click To View How We Conduct Our VIRTUAL Programs:
Call 
(917) 375-4248
E-Mail: info@dinosaursrock.com
DINOSAURS   GEMSTONE MINING
OCEANS   & INSECTS
Call Us (917) 375-4248
Want your campers to go home and say "I Had The Best Day Ever!"  Bring in any one of our 4 science themed programs – DINOSAURS, GEMSTONE MINING, OCEANS & INSECTS.  All programs are highly interactive and they all get to take home real specimens.   Check out the video below: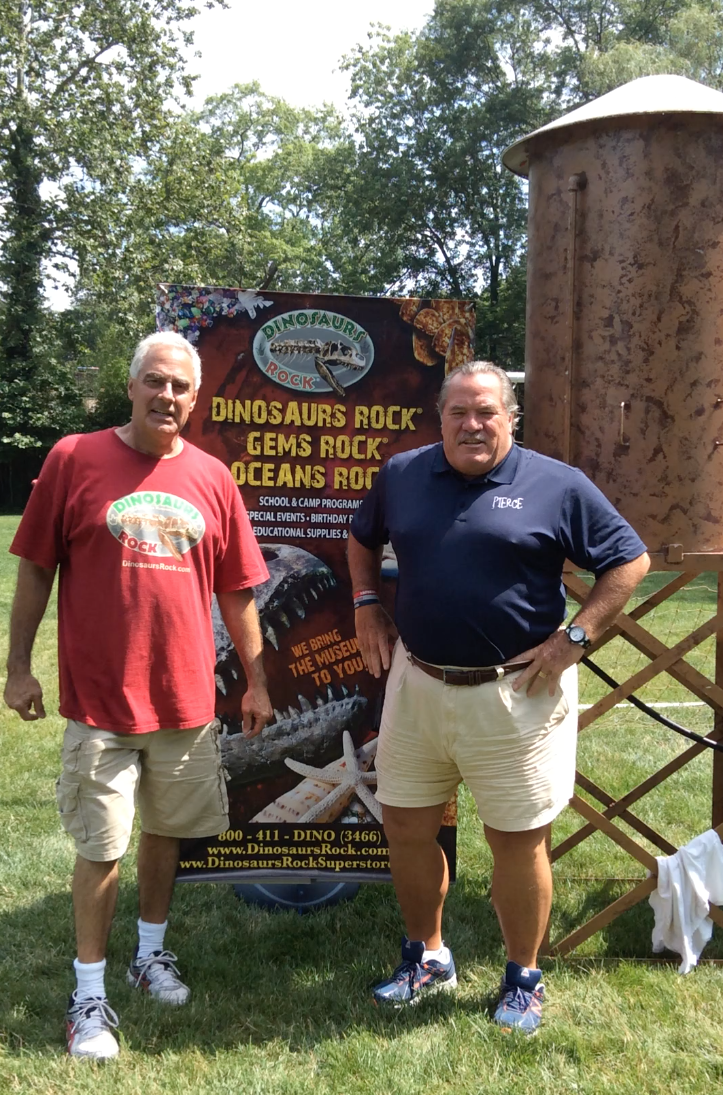 "I highly recommend this program for your camp. We've had DINOSAURS ROCK here for 15 – 16 years now"
Doug Pierce
Pierce Country Day Camp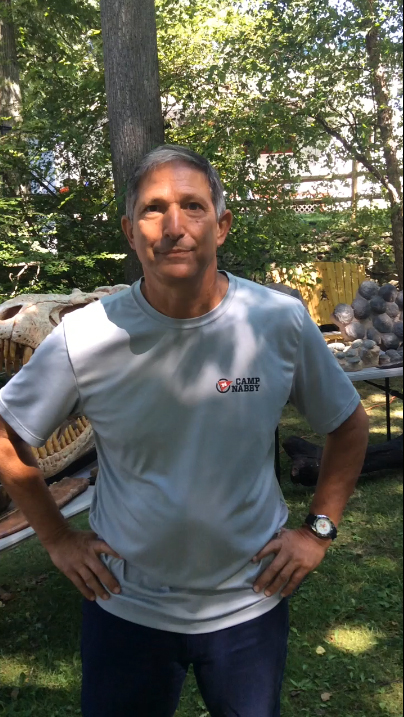 "Thanks ever so much! One of the Best Programs we've had at camp. Campers, counselors, and parents were all equally fascinated. Your delivery and rapport with campers was outstanding and that's why DINOSAURS ROCK has come to this camp for about 14 years already!"
Joe Bertino
Nabby Day Camp
Find Rubies, Emeralds, Crystals…
(Optional) Gemstone Mining Sluice
Good luck being on time for your next activity as your campers are way too busy sifting thru hundreds of stones to discover the special ones they want to keep.  Sparkly, shiney, crystals and genuine gemstones as well.
Sluice Available only in NY & NJ & CT
#1 Favorite Summer Camp Activity
Gemstone Mining At Its Best
Imagine your campers going home having the best day of their lives telling Mom & Dad they found REAL GEMSTONES like rubies, emeralds, aquamarine, sapphire, tourmaline, golden pyrite, agates, and more.
Below is our Standard Gemstone Mining.  

Fast set-up.  Campers still find incredible Gemstones to keep & take home.
Gemstone Sluice Requires Water, Electricity & A Flat Surface
From 20 to 40 Campers At A Time
Set-up is easy for the Gemstone Mining Sluice.  A flat surface is necessary near water and electricity.  We can accomodate 20-40 campers per session.  The actual unit  is 22-ft to 40-ft long depending on how many campers we need to serve.
Transform Your Space Into An Aquarium
Quickly becoming our #1 Program.  Professional Taxidermy SHARKS, Giant CRABS & many MANY Sea-Life Specimens.  Highly Interactive with Keynote Presentation – Best Done Indoors if possible.  Requires 5-6 tables for display specimens.  
Click Here For Complete Details.
Replicates A REAL Fossil/Gem Dig
As Real As It Gets!  Campers work in groups on a Specially Created Exclusive DINOSAURS ROCK® Excavation Block.  Campers collect upwards of 20+ specimens each.  An unbelievable experience. Additional cost per camper for this totally Over-The-Top Amazing Activity!
Polish REAL AMBER To Keep
You Might Find A Prehistoric Insect Inside
HIGHLY INTERACTIVE "KEYNOTE" PRESENTATION (screen & 4 tables required)
Your students will experience the following in a up-close, personal, hands-on approach…
Prehistoric Insects
Insect Life Cycles
Insects Parts
Adaptation
How A Fly Flies
And get detailed really cool info on: Mosquitoes – Fireflies – Cicadas – Bees – Ants – Butterflies – Dragonflies – Arachnids
Transform Your Space
Into A Real Museum
Transform your space into a Museum. You will have a myriad of museum-quality (many genuine and life-size) dinosaur fossils and other prehistoric related items right at Camp. Your campers will see specimens that are 10,000 to over 500 million years old.  Highly Intera ctive Presentation – Lots of camper involvement.
Replicates A REAL Fossil Dig
Your Camp Program includes a genuine Fossil Dig. Campers will have the opportunity to discover and keep genuine fossils. As they participate in this hands-on activity, they will be awed as they uncover genuine dinosaur bone, shark teeth, ammonites, petrified wood and more. Best of all, they will be taking some fossils home, the start of their own collection.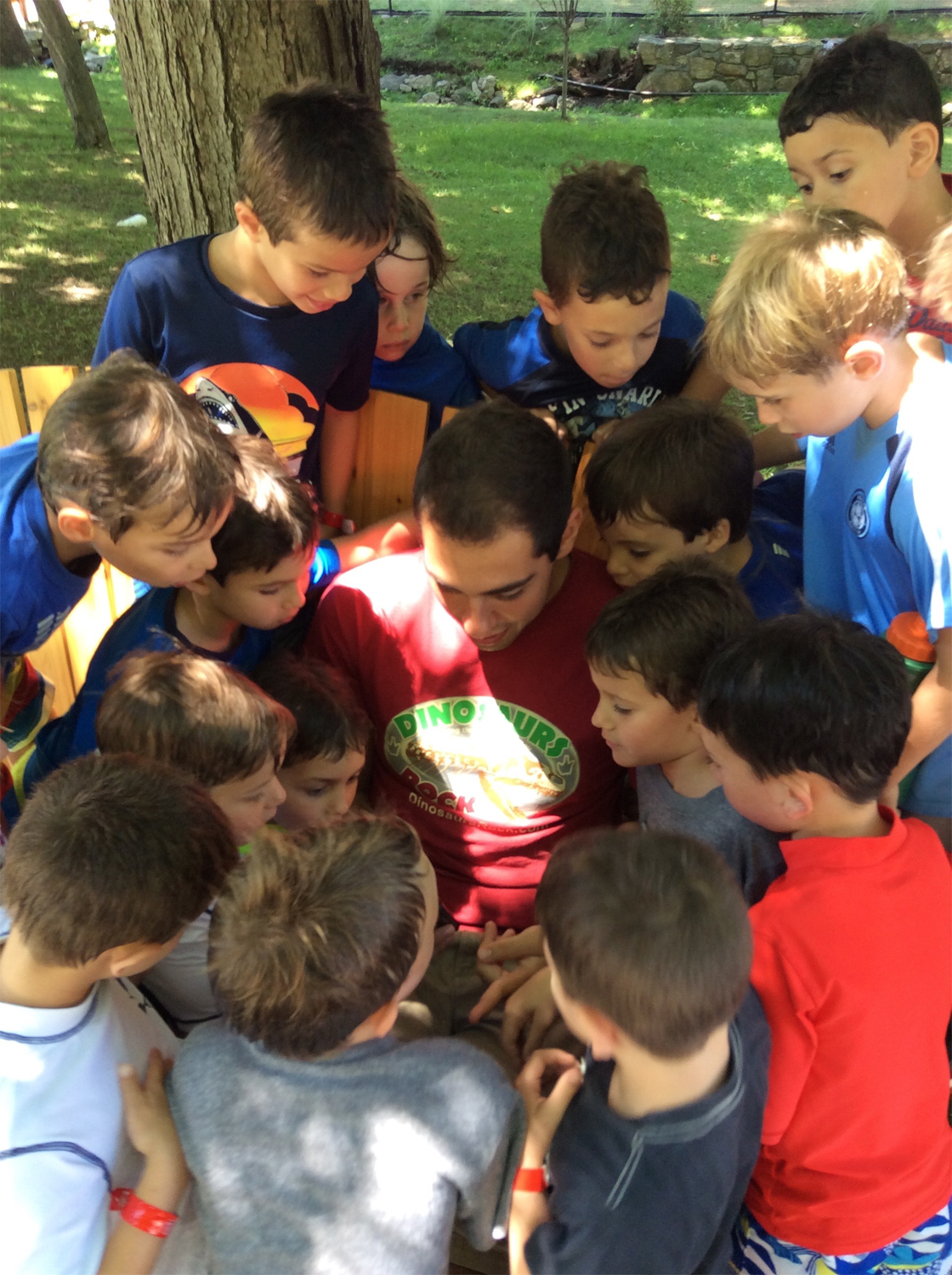 Our Professional Instructors pay attention to your campers and make them feel like a big part of the "show".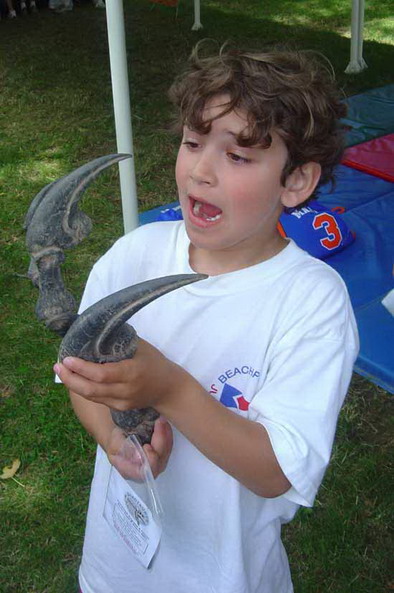 Whoa!  Look how big that Allosaurus Hand is!!
4 Great Programs To Choose From
Click On Any Photo For complete Details
Call Now To Book Your Summer Camp Program
Book early to avoid dissappointment.  Our Summer availability books up quickly.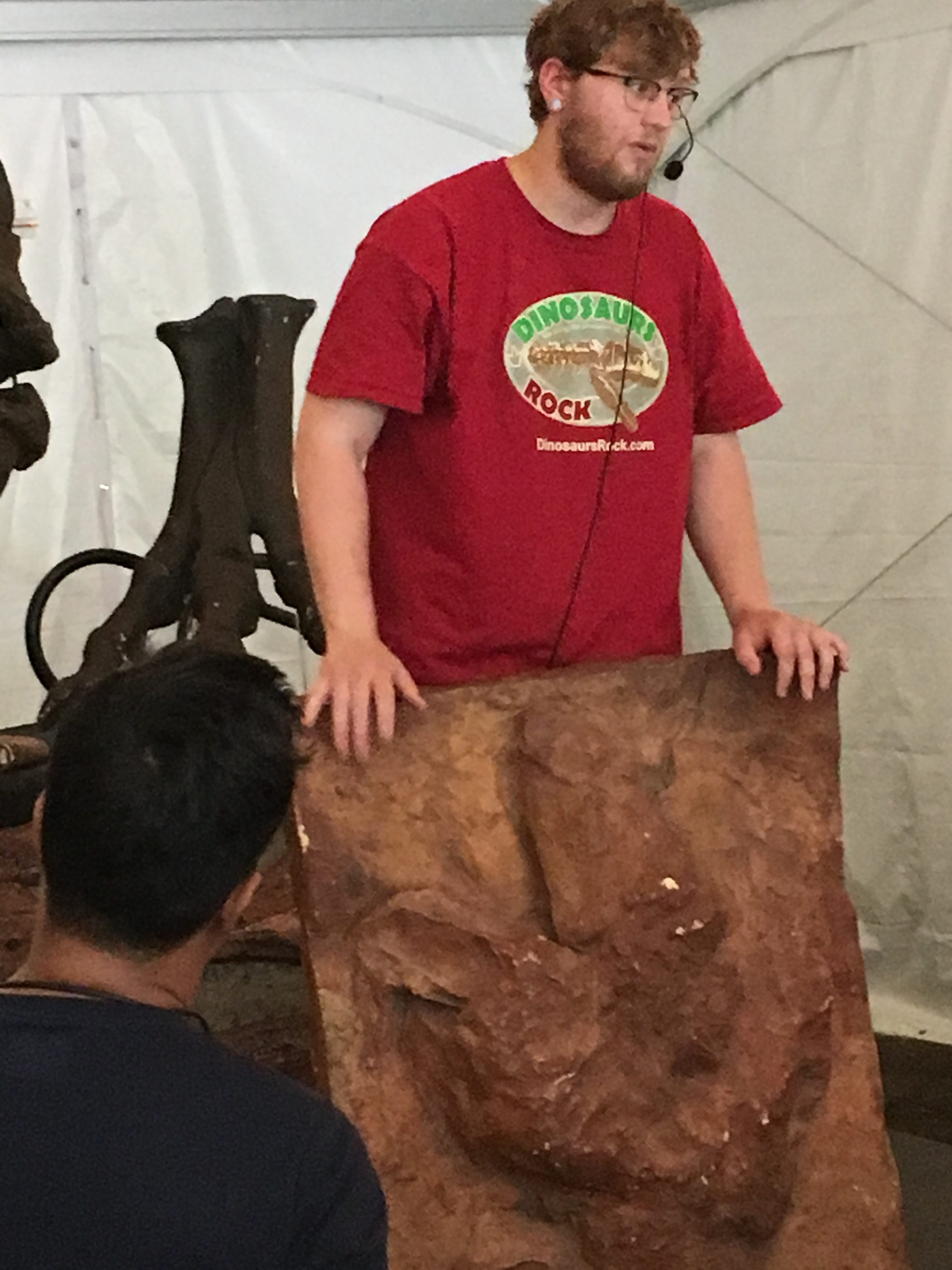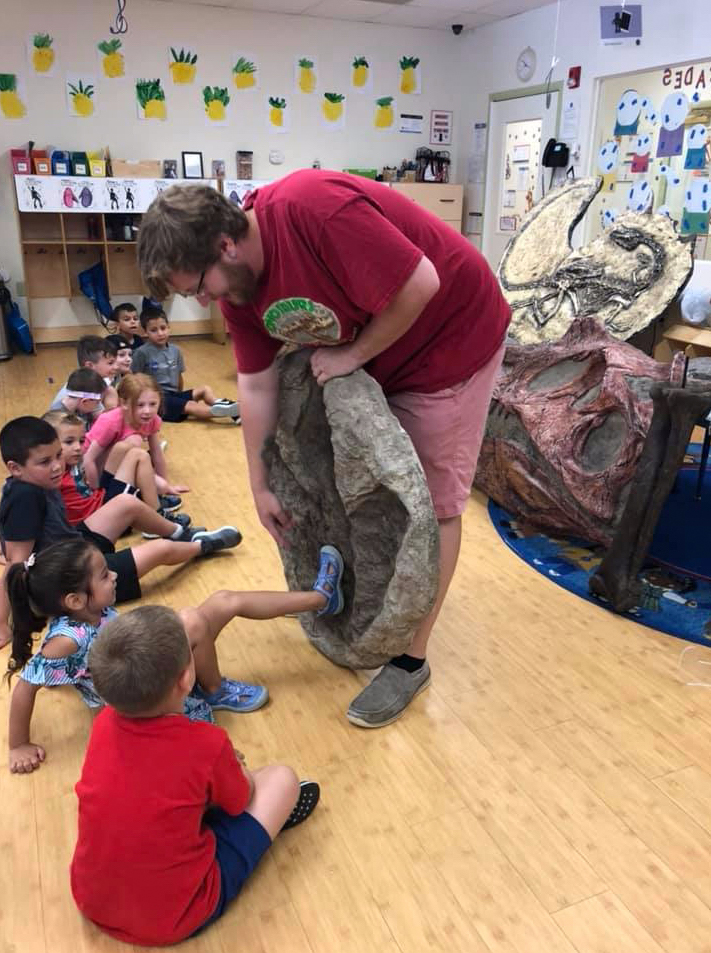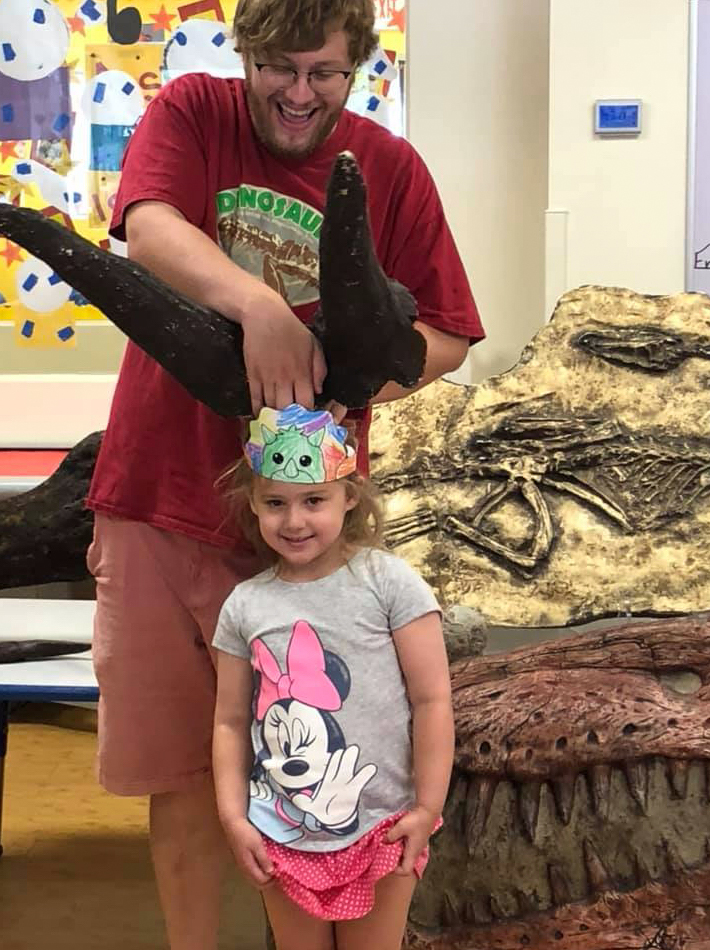 Today totally rocked! Professor Alex from Dinosaurs Rock Programs came to visit and educate us about dinosaurs and fossils. We got to see and touch real dinosaur fossils, a fossilized dinosaur egg and….fossilized dinosaur poop! We also learned what a cast was when we viewed the fossils that were made as look a-likes. It was another epic day for all at the Goddard School Morganville's summer camp.