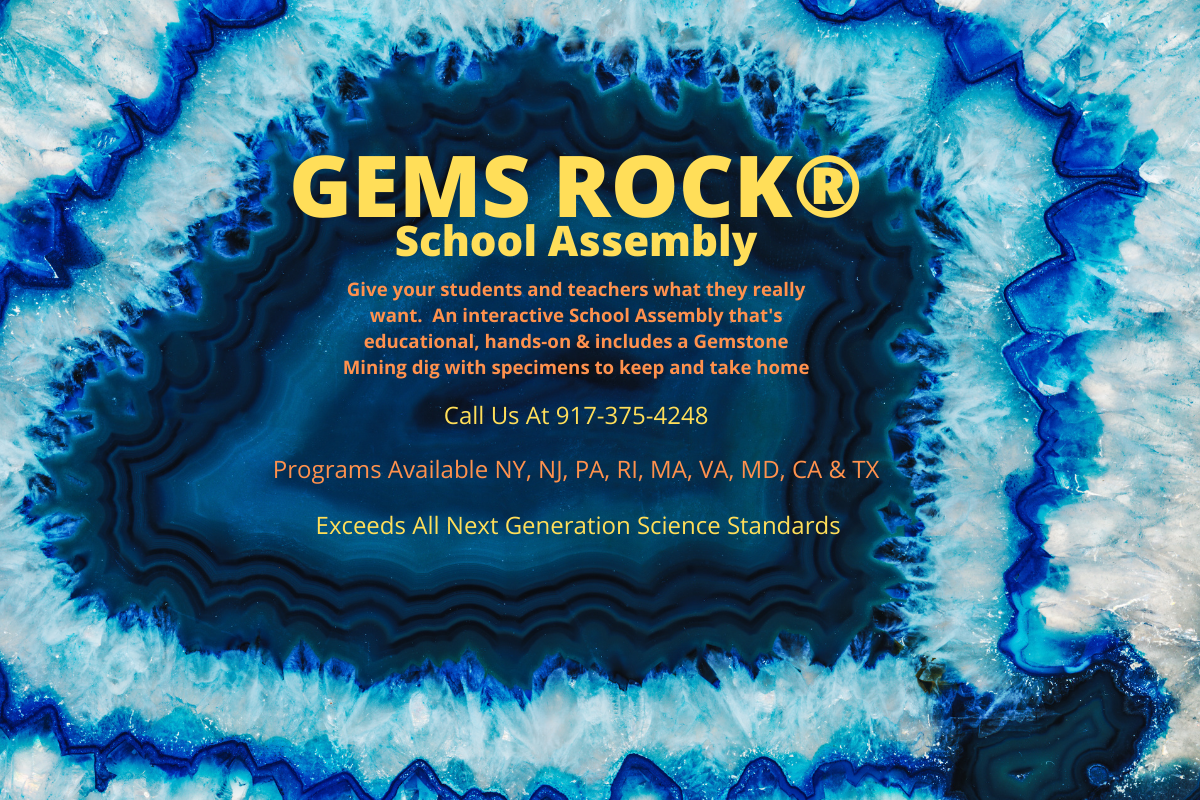 Celebrating Our 22th Year Of In-Person Special Events…
Now Offering Virtual Events Too!
.
Welcome To
GEMS ROCK®
School Assembly
Jam-packed Multi-media presentation with Grade Specific Information on Rocks & Minerals, lots of student participation and an Amazing Dig where your students will dig, find, keep and take home an incredible collection of Gems and Minerals. This School Assembly requires a Screen, and 3 tables for our display specimens. Easy access into building without stairs.
Grade Specific & Appropriate From Pre-K To 7th Grade: With Gems Rock You Are Going To Learn The Following:
Your younger grades will be amazed at how many items around your home are created from the rocks we take out of the ground and use in our everyday lives.
Grade Specific Topics:
Rocks As Earths Resources.
Learn Amazing Insights On How The Earth Was Formed.
How Rocks Are Formed.
How Rocks Are Broken Down – Weathering & Erosion.
Geologic Time And Physical Changes Through Time.
Plate Tectonics And The Large Scale Dynamic Forces That Affect The Earths Land, Water And Atmospheric Systems.
Volcanoes, Earthquakes And Tsunami's – How They Are Created.
Earth & The Solar System.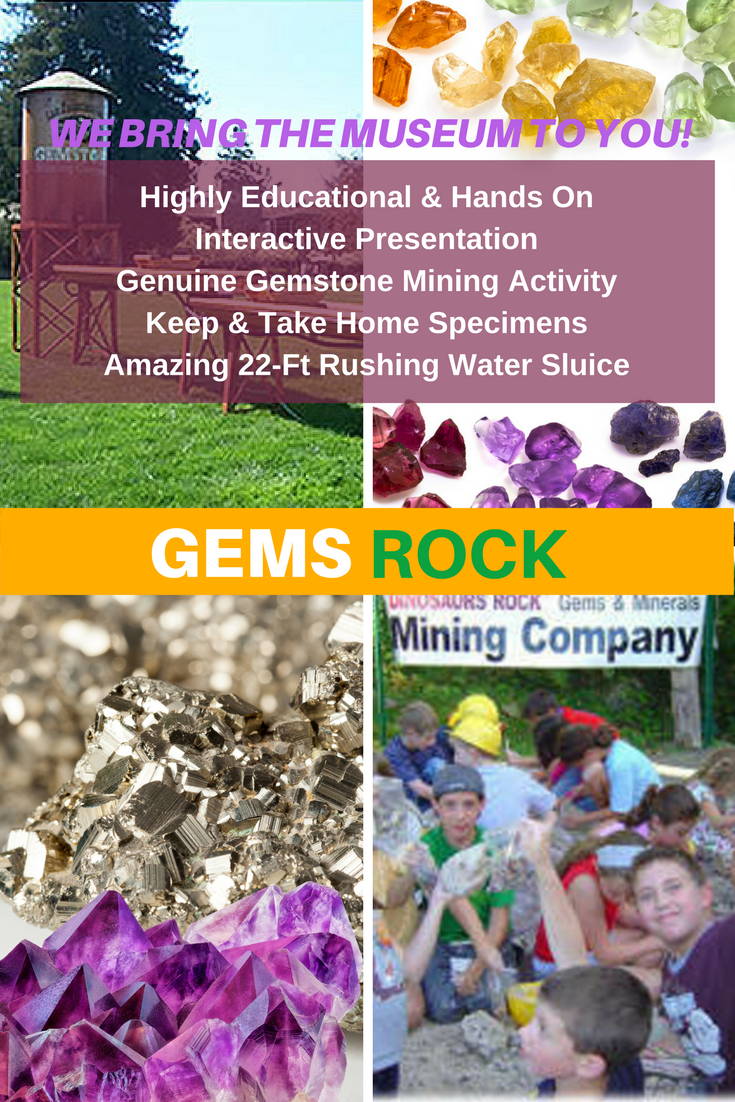 Dig, Find & Keep Real Gemstones!
Rubies, Emeralds, Sapphires, Tourmaline, Amethyst, Citrine, Quartz, Topaz, Peridot, Herkimer Diamonds, Pyrite, Agates & More!

Extraordinary Specimens To Keep
All of our programs include an authentic dig for really cool specimens.  The standard package for GEMS ROCK® includes a dig for students to find and keep any 3 specimens of their choice.  Dig Up Amethyst, Quartz & Citrine Crystals, Beautiful Polished Agates, Real Rubies, Emeralds, Sapphire, Toumaline and more.
As realistic as it gets.  We created the original EXCAVATION BLOCK allowing students to experience what its like digging for real Rocks, Minerals & Gemstones.  Students can find and keep 20+ specimens each with Excavation Blocks (additional cost) vs 3 specimens on standard dig.
Even in Winter you can experience the thrill of Gemstone Panning.  We'll bring in 3-ft bins loaded with REAL GEMSTONES & your students can search for rubies, emeralds, aquamarine, sapphire, tourmaline, golden pyrite, agates, and more.
Make this the best day of your students life!  Have them break open a crystal filled GEODE to keep and take home (additional cost).  Watch the look of extreme excitement when they pick out a dull looking rock, crakc it open to fined gorgeous crystals.
Only available in the spring (weather permitting) we can bring out (additional cost) our 22-ft Rushing Water Sluice.   Students surround the mini-river of flowing water and search for incredible looking stones to keep and take home.  Gemstone Mining Sluice available only in NY, NJ, CT.
A Great Way To Either Start Off Or Finish Your Rocks & Minerals Unit!
Many schools bring us in year after year as a highlight to their Rocks & Mienrals unit of study.  Your students will be totally excited and this will quickly become your favorite unit to offer you students.
15 Years At Mt. Horeb Elementary School With the GEMS ROCK School Assembly!
If your budget allows – consider adding in GEODES – Your students will be amazed at these natural crystal filled rocks.